LSE Library has recently launched a new project to help foreground some of the stories in their Archives and Special Collections that speak about South Asia. Although not known as a specialist archive of South Asia, there is a great deal of material spread across different collections. The project begins with two new online exhibitions. Daniel Payne explores the student file of Vithal Bayajee Kadam, who studied at LSE in the 1950s. Meanwhile Gillian Murphy introduces highlights from the Myra Sadd Brown Memorial Library, which focuses on women's activism.
Vithal Bayajee Kadam: a promising student
This online exhibition explores the discovery of some previously unknown letters written by Ambedkar, one of the LSE's most significant alumni who fought for the representation and rights of Dalit communities and chaired the Drafting Committee for the Indian Constitution. The curator Daniel Payne, talks us through the exploration of the student file of Vithal Kadam, a student who came to study at LSE under a scholarship organised by Ambedkar.
"After the Ambedkar exhibition, which bought together Ambedkar's student file and the bits and pieces about him in our archives, I wanted to have one last try at seeing if there was anything else about him that I had missed. There didn't seem to be much information on whether he had a continued relationship with LSE after his studies. Bearing in mind that archive catalogues often reproduce original terms found in archival documents, I searched our catalogue for the word "untouchable" and found the following file…"
Read more about Vithal Bayajee Kadam
Women and South Asia
This second online exhibition highlights the Myra Sadd Brown Memorial Library. This fascinating collection was created in memory of Myra, an activist and internationalist who was heavily involved in the women's suffrage campaign. Curator Dr Gillian Murphy introduces various interesting items in the collection; including She magazine, founded in 1963 by LSE graduate Zuhra Karim to provide a platform for women's voices and a place for women journalists to work in Pakistan.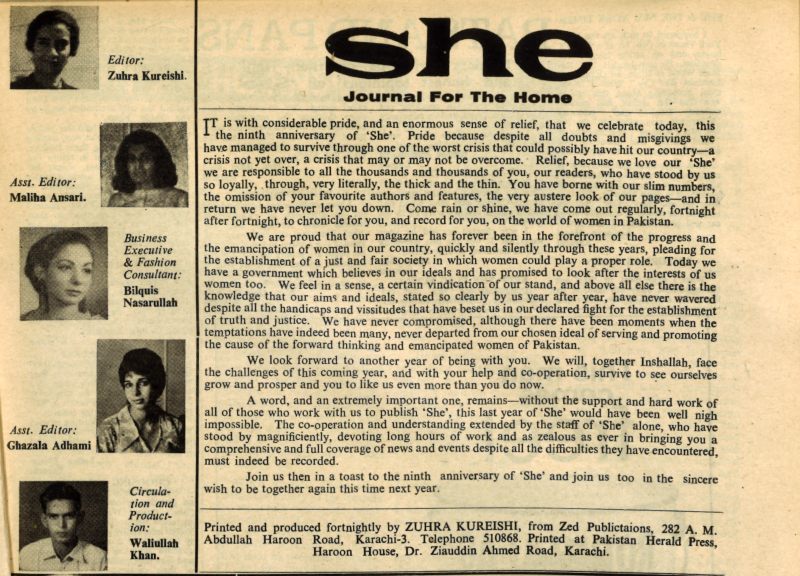 "Many of the books that we hold in The Women's Library, which relate to South Asia, are part of the Myra Sadd Brown Memorial Library. This library was founded in 1938 in memory of Myra, who was a member and treasurer of the British Commonwealth League, and it was managed by the Women's Service Library, predecessor of The Women's Library.
"Myra Sadd Brown was an activist and internationalist. She was involved in the women's suffrage campaign, taking part in the window-smashing campaign of 1912. Arrested and imprisoned, she went on hunger-strike and was force-fed. We hold her prison letters to her husband and children and other items relating to her — search 'Myra Sadd Brown' in the archives catalogue to find them".
Read more about women and South Asia
Browse more LSE History Blog posts from the LSE and South Asia collection