Congratulations to SPP student team EmpowHER Capital who have won the runners-up prize in the Turner MBA Investment Impact Network and Training (MIINT) Competition. The competition, which is supported by LSE's Marshall Institute, gives students the opportunity to gain hands-on experience in impact investing by sourcing and conducting due diligence on real-world, early-stage impact investment opportunities.
The competing teams from global business and graduate schools, present their recommendations to an investment committee composed of industry leaders for a potential investment of up to $50,000 in their presented company.
Find out how the all-female SPP team, Julie Rubenstein, Emilie Drop, Gabrielle De Haan Montes, Alvira Rao, Prebhjot Kaur and Ana Abad, used their passion for social entrepreneurship and their winning team dynamic to beat over 40 competitors from schools around the world and be named as overall runners-up and audience choice winners in the competition.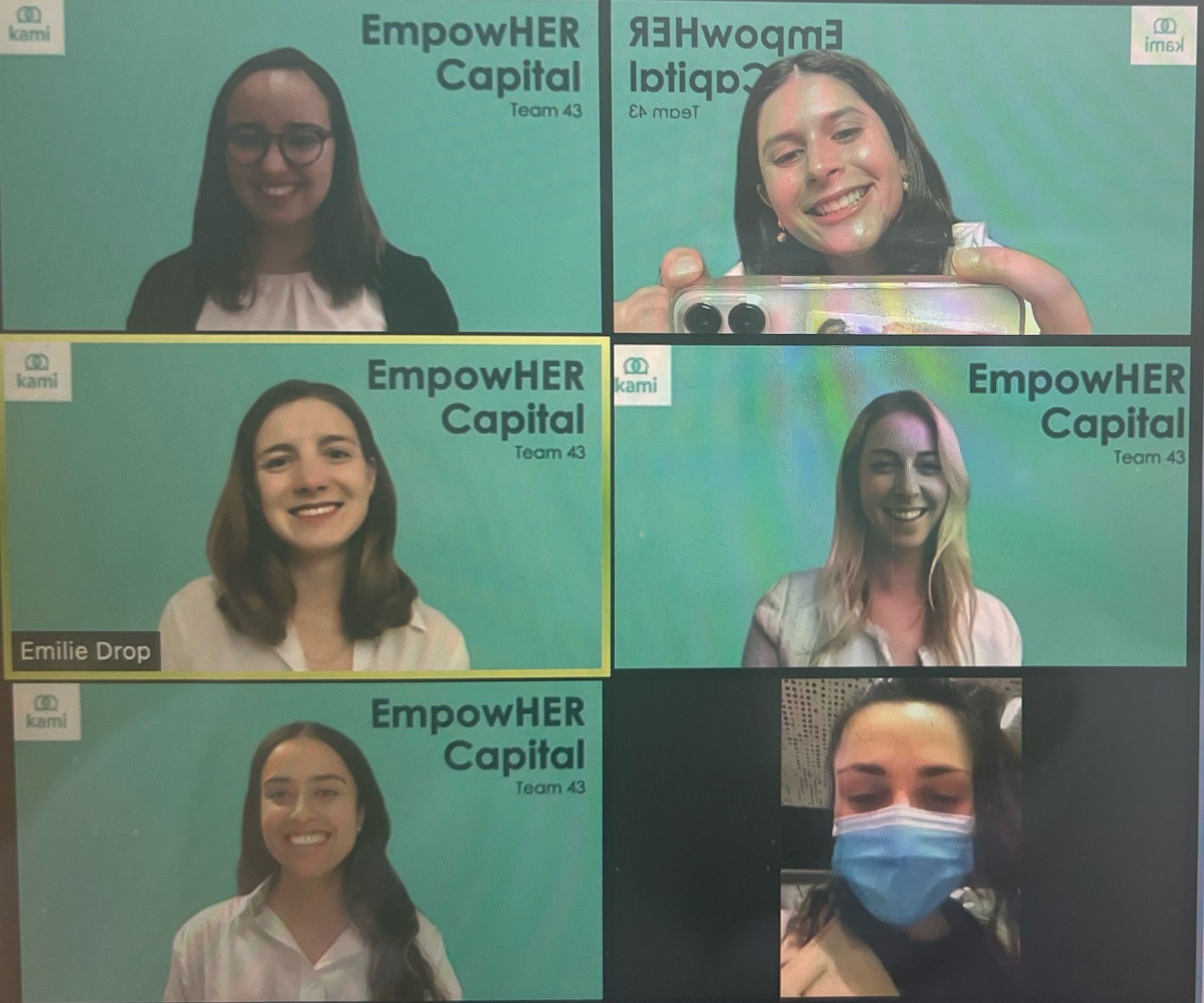 Can you tell us more about the MIINT competition and how you became involved?
The MIINT competition is a graduate school competition organized by the Bridges Foundation and Wharton School to give students hands-on experience in impact investing. The goal is to conduct due diligence and impact assessment of a start-up with social and/or environmental impact. Winners of the competition get up to $50k USD investment into their selected company.
We represented the LSE as an all-female team at the competition, all passionate about social entrepreneurship and impact investing. We are graduate students from the MPA and MPP and were all enthusiastic about the opportunity to learn about impact investing and to gain real-life experience as investors next to our studies.
What startup company did you select and why? 
As an all-female team, our investment thesis centered on gender lens investing. We wanted to seek out female founded firms that are solving problems disproportionately affecting women. Our selected company, Kami, is an online platform that supports parental wellness in the workplace. It was founded by Erika Brodnock, a mother of 5 children, as she realized there is a large gap in the market for mental and wellbeing support for working parents. Indeed, parents, primarily women, face additional burdens on their mental health, and struggle to balance caretaking and work.
At the same time, companies struggle to support and retain their female employees. Kami has the potential to have a significant impact on parents, children, and society at large. In addition, we were excited about the business model and market opportunity, making the company compelling both from a financial and impact perspective. Importantly, it was our goal to move capital to a black female founder, a category of entrepreneurs that has been historically underfunded.
How did your team dynamic and individual strengths contribute to your success?
The Marshall Institute did a great job of assembling a diverse and highly motivated team – and LSE's first all female team – with a range of backgrounds, skill sets, and prior professional experience. Our team's areas of expertise spanned financial analysis, impact measurement, philanthropy advisory, and social sector consulting, among other areas. We were all incredibly eager to learn, and each team member leaned into their respective area of strength while taking time to educate teammates who wanted to learn from them.
Our first task involved agreeing on a mission around supporting a diverse female founder, and this helped to foster unity and keep us focused on our ultimate goal. Importantly, we also made time to have team dinners and get to know each other outside of the competition, which further created a culture of friendship and mutual respect. We all agreed that this was one of the best group experiences we've had in our academic careers!
What did the presentation process involve and what tactics did you use to convince the Investment Committee to invest?
The competition involved a number of deliverables over many months including developing an investment thesis, sourcing plan, due diligence plan, and then once we selected our company, developing a full investment memo and pitch. It culminated in a final pitch to a panel of judges, and then a second round of pitches when we made it to the finals. We focused on making our presentation clear, engaging, and energizing. We tied all our information together with a compelling storyline that connected our investment thesis to our investment recommendation, and painted a picture of the exciting potential that Kami – our company – has to change the world for the better.
What do you think was the key to your success? 
We would not have gotten to where we did without the incredible guidance and support from Stephan Chambers and the Marshall Institute, our VC mentor Manuel Antunes, our MIINT mentor Elena Iannaccone, and LSE's prior year's MIINT team, among other individuals who met with us. Our mutual passion for impact investing, motivation to learn, and wonderful team dynamic contributed greatly.
We received amazing support from the Marshall Institute. We had regular, bi-weekly calls with Stephan Chambers (director of the Marshall Institute) which were hugely helpful as we went through each stage of the competition, from sourcing and due diligence to impact measurement and analysing term sheets. The Institute also connected us to several Venture Capital funds around London, as well as alumni and entrepreneurs in the LSE community.
What were your key learning points throughout the process?
We all came into the program with different skills; our past experiences range from finance and impact measurement to corporate strategy and philanthropy. As a result, we all learned different things from MIINT. That's the best thing about the program – it takes you through the whole process, from sourcing and financial analysis to impact measurement and deal structuring.
What do you think were the main benefits from taking part?
We all agreed that this process was one of the most practical and educational we have experienced at LSE so far. The opportunity to connect with various professionals in the impact investing ecosystem allowed us to gain a strong understanding of what careers in this space might look like, and to forge meaningful connections. In addition, the opportunity to partake in the full process of making an impact investment, and sourcing a real-world company in real time, made for a truly relevant and practical learning experience.
What is next for your team?
We all so enjoyed working together and look forward to staying in touch and helping each other on our career journeys following our programs. We've also tossed around the idea of starting our own impact-focused venture capital fund, so stay tuned!
What advice would you give to anyone who is considering taking part in future?
Do it!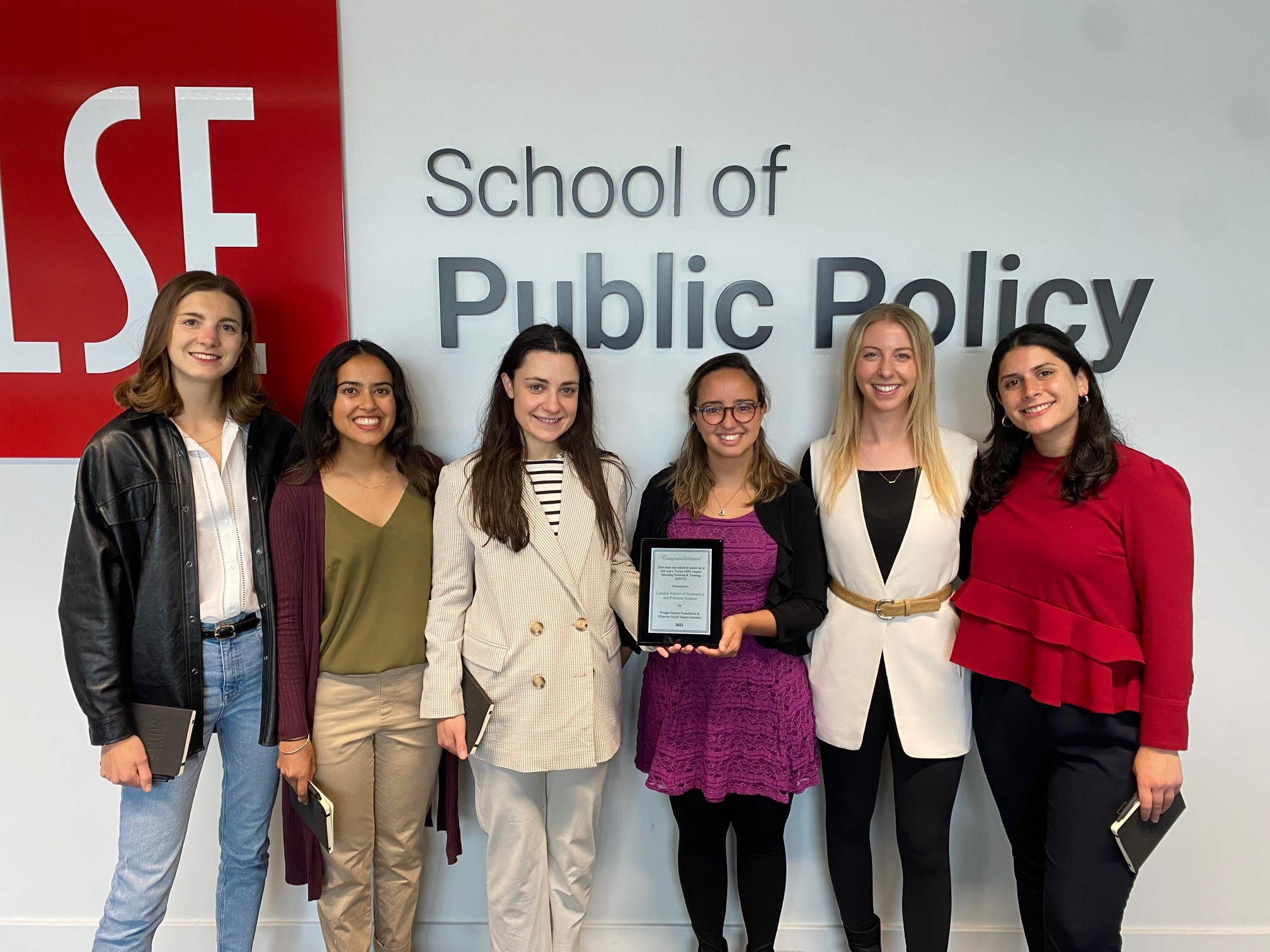 Authors: Julie Rubenstein, Emilie Drop, Gabrielle De Haan Montes, Alvira Rao, Prebhjot Kaur and Ana Abad
Note: The blog post first originated on the LSE School of Public Policy website.