David Adams is Director of Research in Urban Studies at the University of Glasgow. Here he tells how three books on property development and housebuilding connect the individual drive, determination and sometimes delusion that can be characteristic of property development, to the broader financial and political processes that are just as important
One of the first books to spark my interest in property development and the extent to which it is (or is not) regulated by the State was The Property Machine written by Peter Ambrose and Bob Colenutt in 1975. Published as a Penguin in what we would now consider small print, its 192 pages were packed with critical analysis of how the enormous profits made by the development industry in boom times were underpinned by easy access to capital and the benign support of the State.
At the time, Colenutt was working at a researcher for the North Southwark Community Development Group, while Ambrose was near the start of his career at the University of Sussex. Together, they opened up a world in which the transformation of well-located urban space in the postwar years was driven forward by insurance companies and pension funds channelling large funds towards increasingly lucrative forms of commercial property development. In a strangely prophetic section, they noted how the banking sector also made a massive amount of money out of the property boom before the banking collapse of 1973-74.
Looking at the impact of State regulation, Ambrose and Colenutt argued persuasively that developers were always in a strong position compared to planners for the public. Colenutt drew on his experience in North Southwark to show how local people and local employment were squeezed out by the onward march of the property developers, while Ambrose highlighted case studies in Brighton to demonstrate how cash-strapped local authorities are poorly placed to challenge lucrative development projects, even if such projects were not be in the best interests of local people.
Looking back on a publication that is getting on for 40 years old, it is fascinating to reflect on how up to date its themes are. The particular personalities, companies, and issues highlighted by Ambrose and Colenutt may have long faded from memory, but discussions around who gains and who loses from development activity and concerns about the recurring process of development boom and bust, stoked up by finance capital, remain just as pertinent today.
Twelve years later, Peter Ambrose returned to similar themes in his more academic text, published by Methuen in 1986 entitled Whatever Happened to Planning? This book set the development industry of the early Thatcherite period within the context of its historical evolution over the period since the end of the First World War. Ambrose sketched out a diagrammatic model of the relationship between all the key actors in the development system. Taking a similar Marxist-based perspective to David Harvey, he showed how flows of capital energised the whole system in ways that were both poorly controlled by the State and largely unresponsive to local pressure.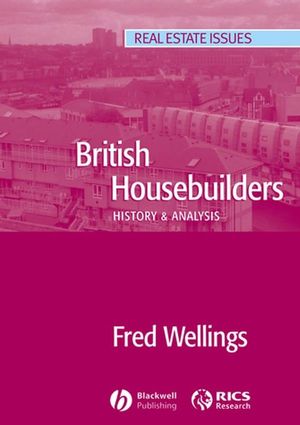 Despite its wider significance to the economy and society, the development industry has been sparsely explored since, at least in book form. One notable exception, however, is Fred Wellings' British Housebuilders, published by Blackwell in 2006. As an investment analyst, Wellings had spent much of his career researching the housebuilding industry and getting to know its key players. This gave him the kind of inside access to data and people that most academics can only dream about. For many years, he published the widely respected Private Housebuilding Annual, charting the ups and downs of the industry.
Nearing retirement, Wellings decided to use all his knowledge and records to produce a PhD in economic history, which in due course was awarded by the University of Liverpool. With some minor revision, this was then appeared as British Housebuilders, along with a more detailed volume entitled Dictionary of British Housebuilders which Wellings published himself.
British Housebuilders is undoubtedly a highly original and substantive study. From detailed historical research and drawing on almost 140 interviews with key players in the industry, it identified all the larger UK housebuilders from the 1930s onwards. The meticulous nature of the investigative work is matched by a written account that is cogent, fascinating and closely argued. The record reveals significant growth and decline among the companies that have dominated the industry over those years, with the result that only 13 of the 37 housebuilders who appear in the 'top ten' listings at some point during the research period were still in business in 2001. Significantly, as far as the housebuilding industry is concerned, Wellings rejects traditional explanations of growth and decline based on economies of scale and scope. Instead, he highlights the importance of stock market expectations, personal ambition and entrepreneurial flair and judgement.
Fred Wellings' background as an industry analyst ensures that his contribution is philosophically very different from the earlier books of Peter Ambrose and Bob Colenutt. Nevertheless, there is something strangely complementary about all three books in the way they connect the individual drive, determination and sometimes delusion that is so characteristic of property development, to those broader financial and political processes that are just as important in deciding its outcomes.
——————————————————————————————-
David Adams holds the Ian Mactaggart Chair of Property and Urban Studies at the University of Glasgow, where he is also Director of Research in Urban Studies. David's main research interests are in urban policy and regeneration, real estate development and state-market relations in planning policy and implementation. He has researched and published widely in these fields, most notably as author of Urban Planning and the Development Process (1994), co-author of Land for Industrial Development (1994) and Greenfields, Brownfields and Housing Development (2002) and as co-editor of Planning, Public Policy and Property Markets (2005) and Urban Design in the Real Estate Development (2011). His latest book, Shaping Places: Urban Planning, Design and Development (co-authored with Steve Tiesdell) was published by Routledge in August 2012.