On Monday 2nd September 2013 the London School of Economics launches a new multi-disciplinary blog: American Politics and Policy blog – USApp will cover all aspects of governance, economics, politics, culture and society in the United States, and in its continental neighbours, Canada and Mexico.
To get you in the mood for reading this exciting new academic blogging project, here is a selection of some of our USA-related book reviews.
Explore USApp from Monday, or follow them on Twitter @LSEUSAblog now.
…………………………………………………………………………………………….
America's Right: Anti-Establishment Conservatism from Goldwater to the Tea Party by Robert B. Horwitz
21st century American conservatism has moved far beyond the Reagan Revolution of small government, lower taxes and a respect for tradition. The alliance of libertarians, neoconservatives, and the Christian right has launched anxious and angry attacks on the purported homosexual agenda, the "hoax" of climate change, the rule by experts and elites, and the banishment of religion from the public realm. This book examines the nature of anti–establishment conservatism, traces its development from the 1950s to the Tea Party, and explains its political ascendance. This book will not disappoint students of US politics, writes Joel Krupa. Read the full review…
…………………………………………………………………………………………….
Obama's Economy: Recovery for the Few by Jack Rasmus
Barack Obama's plans for economic recovery came under fire from critics and voters for failing to fully deliver, but having now been voted in for another term, will Obama offer up enough to lessen the economic hardship endured by millions of US citizens? Economist Jack Rasmus argues in this book that the weakest economic recovery since 1947 is the direct result of the Obama administration's failure to take decisive action. Iwan Morgan finds much of interest for historians in this account, but is disappointed by the lack of a real grand plan from Rasmus for a broad and deep recovery. Read the full review…
…………………………………………………………………………………………….
Young American Muslims: Dynamics of Identity by Nahid Afrose Kabir
What is it like to be a young Muslim in America? Since 9/11 Muslim Americans have faced renewed challenges, with their loyalty and sense of belonging being questioned. Based on around 400 in-depth interviews with young Muslims, this book aims to discuss the similarities and differences between ethnic and racial groups such as Iranians, Arab Americans and African Americans. Maja Milatovic finds Kabir's study is ultimately optimistic in its appreciation of the maturity and fair-mindedness of the participants which are crucial for establishing constructive dialogues in American society. Read the full review…
…………………………………………………………………………………………….
Martin's Dream: My Journey and the Legacy of Martin Luther King Jr by Clayborne Carson
Written with the unique perspective of someone who has, for three decades, been involved with Martin Luther King Jr.'s legacy, Clayborne Carson gives readers an insider's account of what transpired after the Dream speech, and beyond. A rich and engrossing memoir of black empowerment at a unique moment in time, this is an undoubtedly special contribution to King's memory, writes Roger McCormick. Read the full review…
…………………………………………………………………………………………….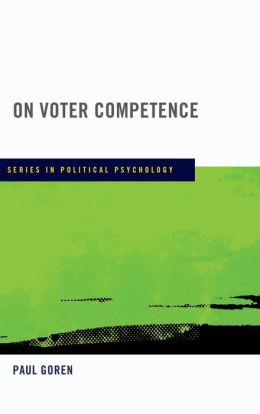 On Voter Competence by Paul Goren
A half century of research shows that most citizens are shockingly uninformed about public affairs, liberal-conservative ideologies, and the issues of the day. This has led most scholars to condemn typical voters and to conclude that policy voting lies beyond their reach. On Voter Competence breaks sharply from this view, with author Paul Goren providing analysis of opinion data from the past six presidential elections. Lorna Walker writes that this book challenges some aspects of the negative view of American voters, it by no means exonerates them on the charge of incompetence. Read the full review…
…………………………………………………………………………………………….