2014 has been a wonderful year for new and exciting social science books, with popular releases across the disciplines reaching students, scholars and general readers. Here's our guide to the perfect books for Christmas 2014, based on some of the most popular reviews on LSE Review of Books through the year.
---
For the urbanist in your life
The New Science of Cities by Michael Batty
In The New Science of Cities, Michael Batty suggests that to understand cities we must view them not simply as places in space but as systems of networks and flows. Drawing on the complexity sciences, social physics, urban economics, transportation theory, regional science, and urban geography, and building on his own previous work, Batty seeks to introduce theories and methods that reveal the deep structure of how cities function. Andrew Karvonen is impressed and convinced. Read the full review.
Find this book: 
You might also like:
---
For the economist in your life
Capital in the Twenty-First Century by Thomas Piketty
Questions about the long-term evolution of inequality, the concentration of wealth, and the prospects for economic growth lie at the heart of political economy. But satisfactory answers have been hard to find for lack of adequate data and clear guiding theories. In Capital in the Twenty-First Century, Thomas Piketty seeks to analyse a unique collection of data from twenty countries, ranging as far back as the eighteenth century, to uncover key economic and social patterns. Piketty shows himself to be not only a supereconomist but also a skilled politician, writes Christel Lane. No wonder his thoughts have resonated even at the highest political levels. One can only hope that his work will actually influence adoption of his policy recommendations. Read the full review.
Find this book: 
You might also like:
---
For the sociologist in your life
C. Wright Mills and the Sociological Imagination: Contemporary Perspectives edited by John Scott and Ann Nilsen
This book is a collection of essays offering current perspectives on C. Wright Mills'influence on the field of sociological research, specifically focussing on his most famous work- The Sociological Imagination. The collection seeks to explore the general issues around the nature and significance of the sociological imagination and includes a series of reflections from scholars on the impact of Mills' writings in their sociological work. This collection certainly affords the reader a chance to consider the various legacies of C. Wright Mills – but from very particular and established perspectives, writes Sarah Burton. Read the full review.
Find this book: 
You might also like:
---
For the feminist scholar in your life
'Leftover' Women: The Resurgence of Gender Inequality in China by Leta Hong Fincher
In this new book, Leta Hong Fincher argues that a discourse around young, unmarried 'leftover women' in China is propagated through state media news reports and television shows to mask the persisting sex ratio imbalance in the country and to encourage well-educated women to marry and have children sooner. Yang Shen believes that Fincher should be applauded for bringing together the under-theorised themes of women's property rights, the rights of LGBT groups, and domestic abuse. A thought-provoking book, although some arguments are weakened by insufficient evidence and untrustworthy sources. Read the full review.
Find this book: 
You might also like:
---
For the historian in your life
Listening On The Edge: Oral History In The Aftermath Of Crisis by Mark Cave and Stephen M. Sloan
Listening On The Edge presents excerpts from oral histories done after twelve world crises, followed by critical analyses by the interviewers. Additional analytical chapters set the interviews in the contexts of pyschoanalysis and oral history methodology. This book reminds us that the past is never finished and that the present cannot be ignored, and that telling and listening to testimony "amid chaos" is extremely important, writes Jas Kaur. Read the full review.
Find this book: 
 You might also like:
---
For the political scientist in your life
Women in Political Theory by Jane Duran
Women in Political Theory is the first volume to explore the intersections of feminism, politics and philosophy, and to consider the contribution of women philosophers to the field of contemporary political thought, claims its author Jane Duran. With a focus on five central thinkers, Sarah Grimké, Anna Julia Cooper, Jane Addams, Rosa Luxemburg, and Hannah Arendt, Duran hopes to show that each woman was in fact an established political theorist of her time. Katherine Williams recommends this volume to students, scholars and readers with an interest in philosophy, political and social theory, feminism, and gender studies. Read the full review.
Find this book: 
You might also like:
---
For the artist in your life
Antipolitics in Central European Art by Klara Kemp-Welch
Spanning a period punctuated by landmark events from the crushing of the Hungarian Revolution of 1956 to the birth of the Polish Solidarity movement in 1980 Antipolitics in Central European Art aims to anchor art historical analysis within a robust historical framework. Jim Aulich is impressed by Klara Kemp-Welch's articulation of how small groups of artists and their audiences openly converged in a public cultural realm parallel to the intellectual and political opposition. Read the full review.
Find this book:
You might also like:
---
For the philosopher in your life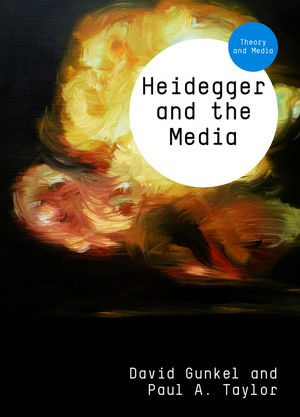 Heidegger and the Media by David Gunkel and Paul A. Taylor
Martin Heidegger has been largely ignored within communications studies, but this book aims to show the relevance of his work for the field. David Gunkel and Paul A. Taylor analyse Heidegger's theory of language and its relevance to communications studies, and assess Heidegger's legacy for future developments in media theory. Niall Flynn finds this a clear and thought-provoking read, though a touch more detail in places would have been welcome. Read the full review.
Find this book: 
You might also like: